OUR UNIQUELY GENTLE, SUSTAINABLE PROCESS
Transparency in All We Do
We are proud of what we put into our products and know exactly where every turkey comes from within our farm family network.

Our farmers believe in taking care of their turkeys, which means practicing humane treatment from start to finish.

Our high standards start with paying special attention to how our turkeys are raised.

Dakota44 turkeys are never given antibiotics and eat a 100% vegetarian diet from grains grown right on our farms.

Our turkeys are raised in barns to have ample growing room and are transported in custom crates built for comfort and travel no more than one day with no human contact to minimize stress.

We're committed to crafting better food for the better good.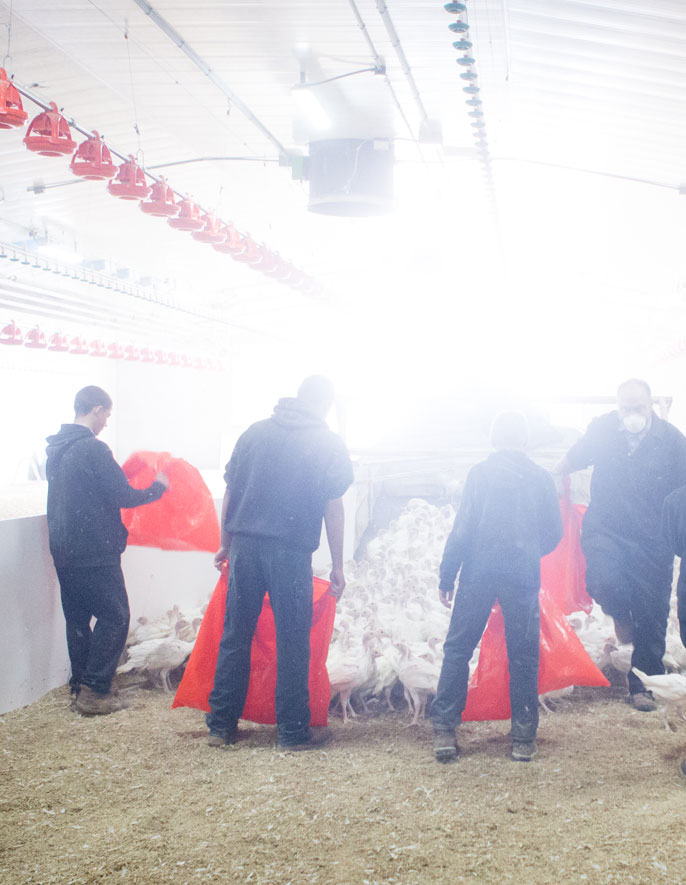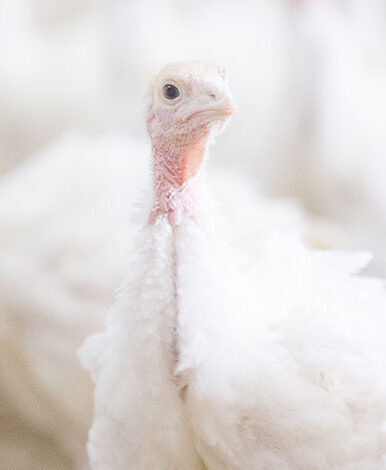 44 Family Farms
Dakota44 has its roots throughout the Midwest in Hutterite colonies. Each colony is a small, self-sustaining agriculture community.

The brand name, Dakota44, originated from the 44 original Hutterite farms, whose commitment to better food for the better good has carried over into our brand.

Our 44 family farms are not small in scale. Every element of our on-farm practices is well-thought-out, and great care is taken to ensure our turkeys are raised with the utmost attention, compassion, and with the highest standards.

The family farms producing products are GAP (Global Animal Partnership) certified, and each works diligently to follow sustainable practices. Plus, they're inspected annually by the USDA.

We follow sustainable practices throughout our farms, including proprietary heating and cooling systems that use less energy and raise or make everything needed to sustain the communities.

Our state-of-the-art processing facility in Huron, South Dakota, allows us to efficiently and sustainably process our quality poultry products on a large scale.
Dakota44 The Trusted Brand
Farmer Transparency
Our farmers are proud of where they live and what they do for our families. You can learn about the family farm that raised your product through our Farm Finder on our website.
Vegetarian Turkeys
Our birds are 100% vegetarians; NO ANIMAL BYPRODUCTS EVER are fed to our birds. Our bird's corn is also grown from the farm they are raised.
Never Administered Antibiotics Ever
Our birds never are given antibiotics, even before being hatched. We understand that all living creatures may have off days, so our processes include a more preventative approach. Our birds enjoy the benefits of many natural soothing products, which many of us use today. Our birds receive pre and probiotics daily, essential oils such as peppermint, lavender, thyme, and many more. These natural additives, as you know, help with balancing hormones, boost immunities, fight infections, prevent inflammation, support digestion, and more.
Humanely Raised
Our birds are allowed more space to express their natural behaviors and are never caged or crated.
Good Night's Sleep
All our birds are guaranteed six consecutive hours daily with the lights out in the evening to rest.
Less Carbon Footprint
Dakota44 is all about sustaining our futures for all, which means we must farm, act, and process responsibly. Our Sustainability team proactively identifies and implements greener products and procedures to follow for the betterment of all. Here are some of what we are doing today to reduce or offset food carbon miles. 
Transportation

Our farms are less than three hours away to reduce food miles and afford a shorter trip for our bird's overall comfort and wellbeing.

Bulk

We sell in bulk in many local South Dakota retail outlets and online at Dakota44 and Wyshbone Market. Selling in bulk reduces the number of store trips and home deliveries needed. 

Packaging

All our packaging is recyclable ready; please do your part at home. 

We use biodegradable compost-ready shipping materials for all online orders. Your gardens will love this!
Bedding/Litter
Is fluffed daily for a fresh and comfortable experience.
Air Quality
We have a state-of-the-art ventilation system to keep things fresh and moving in every turkey home.
Loading Process
Our loading system is like no other. We do not utilize dangerous machinery that causes additional stress and physical harm like many other manufacturers. Instead, we use a hands-off approach to gently and quietly encourage our birds to move along.
Waiting In Line
Here at Dakota44, we understand the effects extreme weather elements can have on our bird's stress levels and overall well-being, and this is why we go the extra mile. 
Who doesn't like to get misted with water and fanned on a warm day? Our birds sure do! Our facilities include cooling sheds for our trucks to pull in to stay cool and refreshed on warmer days. 
And believe us, we understand what mid-west winters are like #BITTERCOLD. So, we've got this covered as well, literally. We enrobe our trucks to keep heat in and the white flaky winter elements out!
E-commerce
Our packaging is recyclable ready and shipped in compost ready materials.
Get Your Shop On Responsibly!
#Gardenon
#Dakota44
#Getyourshopon